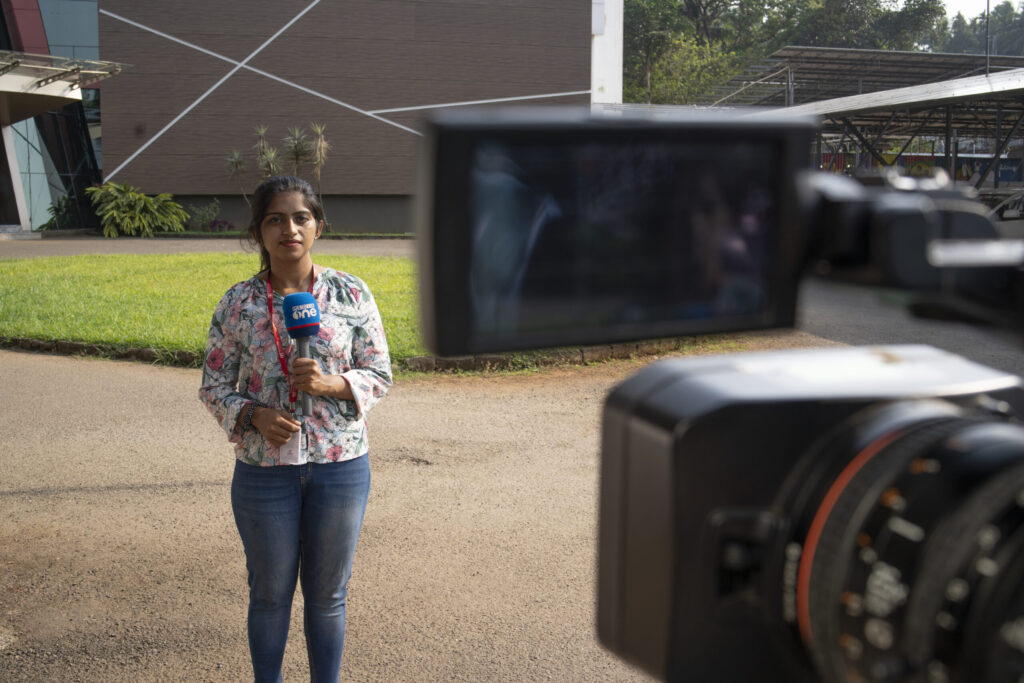 A comprehensive course in print, electronic and web journalism. Specialization could be chosen in one elective course. The course aims to train students in a vast array of skills including research, news writing, reporting, video production, editing and anchoring. Students will get hands-on experience in all aspects of journalism meeting professional standards of the industry.
Duration : 12 Months
Intake : 25
Nature : Full Time
Eligibility : Bachelor's degree in any discipline
Admission Criteria : Portfolio, Written Test and Interview
Course Module
Introduction to Communication
Communication Theories
Basic Grammar and writing
Visual Grammar
Photography
Video Camera and Supporting System
Non-Linear Video Editing
Introduction to Kerala, India, World – Politics, Culture and Economy
Mass Media – Print and Visual – History and Development:
Introduction to Journalism
Print Journalism
Television Journalism
News reporting
Editorial department
Media Law and Ethics
News Program Production; the process
New Media & Web Journalism
MOJO
Current Affaires
Documentary Production
News Bulletin Production
Soft Skill Development
Final project
The course has a dual focus on theory and practice. In the first three trimesters students will get thorough training in Print , television and web journalism, along with advanced classes in language and software required. After the training program, academy will conduct advanced workshops in various fields of journalism to enhance the practical knowledge of students. In the Fourth trimester students should do production in news , new media and Mojo, along with various talk shows. After giving practice in various areas of journalism they will get two month in-house training at Madhyamam daily and MediaOne TV. The course culminates with a diploma in documentary film production.
Experienced and renowned media practitioners from the media industry take regular workshops for the students. During the course the students get opportunity to take part in production activities of the channel such as news programmes, talk shows, etc. By the end of the course the students will be experienced professionals with all the competence required for the media industry.
What Will You Learn?
Introduction to Communication

Communication Theories

Basic Grammar and writing

Visual Grammar

Photography

Video Camera and Supporting System

Non-Linear Video Editing

Introduction to Kerala, India, World – Politics, Culture and Economy

Mass Media – Print and Visual – History and Development:

Introduction to Journalism

Print Journalism

Television Journalism

News reporting

Editorial department

Media Law and Ethics

News Program Production; the process

New Media & Web Journalism

MOJO

Current Affaires

Documentary Production

News Bulletin Production

Soft Skill Development

Final project
Student Ratings & Reviews
No Data Available in this Section